Not alone are our essays brilliantly written - also, they are produced to look great for the scholastic eyes. As soon as you obtain a old fashioned paper from the essay writer, you will enjoy another no charge program - formatting
essay writers needed with Juan Koss.
You'll get superior craftsmanship, really good service provider, and compliance in your directions, in addition to your timeline details. Give us a try - we will not dissatisfy!
Hypnos Beds
We are now stocking Hypnos luxury premier bespoke beds.  Each Hypnos bed is made to order, made to measure, made by hand using natural fillings to regulate body temperature, pressure relieving pocket springs combined with royally approved craftsmanship to ensure a great nights sleep.
Visit our Abington Street store now to choose the perfect bed for you!
Nathan
Nathan Shades Oak
Contemporary curves and beautifully selected veneers complement an oak finish, not only contemporising the original range, but giving a wide choice of living, dining and occasional furniture pieces.
Nathan Shades Teak
Featuring clean lines and a fresh youthful look, Nathan Shades is streamlined and will work well in most styles of room.   Inspired by 1970's classic design, some of the pieces have a superb retro look to them.
Ercol
Ercol Rennaissance
Elegance meets real world comfort. High and low back designs, crafted by steam bending solid ash, deep seating, high arms and a lumbar support, provide exceptional comfort.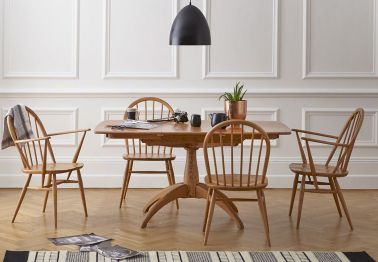 Ercol Windsor
The Windsor dining collection is archetypal ercol and has been in production in various guises since the late 1950's.Made using traditional craft techniques and modern machining these cabinets have the beauty of displayed dovetail joints and iconic oval wooden handles.
Ercol Teramo
A contemporary dining collection in pale oak, with a simplicity of style inspired by Shaker design. Choose a casual or a slightly more formal look, with an oval or rectangular extending dining table and two different styles of dining chair. The collection is completed by a selection of cabinets and occasional pieces.
Ercol Bosco
With its flowing curves and attractive finger joint detailing Bosco is a delight to behold.  Designed to meet the needs of today's living with oak cabinets that provide excellent storage and a choice of extending dining tables. Bosco is made from solid oak and oak veneers, finished with a clear matt lacquer that shows the beauty of the oak.
Ercol Piacenza Bedroom
A stylish update on a classic design. This beautifully painted bedroom collection in a satin linen white finish, offsets the light matt oak surfaces. Turned, scalloped oak handle detailing adds a refined contemporary touch. Tapering turned legs run the full height of the cabinets creating an elegant silhouette. The bed features beautifully arched oak spindles and turned legs.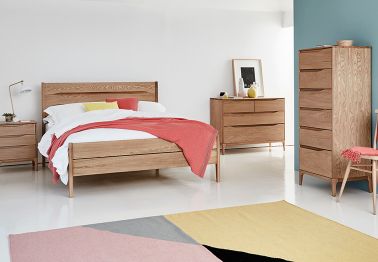 Ercol Rimini Bedroom
Rimini is a contemporary light oak bedroom collection, exuding elegance, defined by clean lines and gentle curves. Designed by the ercol in-house Design Team, the bed features a stunning planked chamfered headboard. A choice of cabinets with inset curved drawer pulls, deep capacious drawers and soft form profiling makes the ranges extremely practical.
Parker Knoll
Experience the luxury and sumptuous comfort of a Burghley Suite. Beautifully proportioned, with an elegant scroll arm and wood feet available in New Teak and Dark Mahogany. Available as Armchair, 2 Seater Sofa, Large 2 Seater Sofa and accompanying Footstool.
We also have in stock the following ranges from Parker Knoll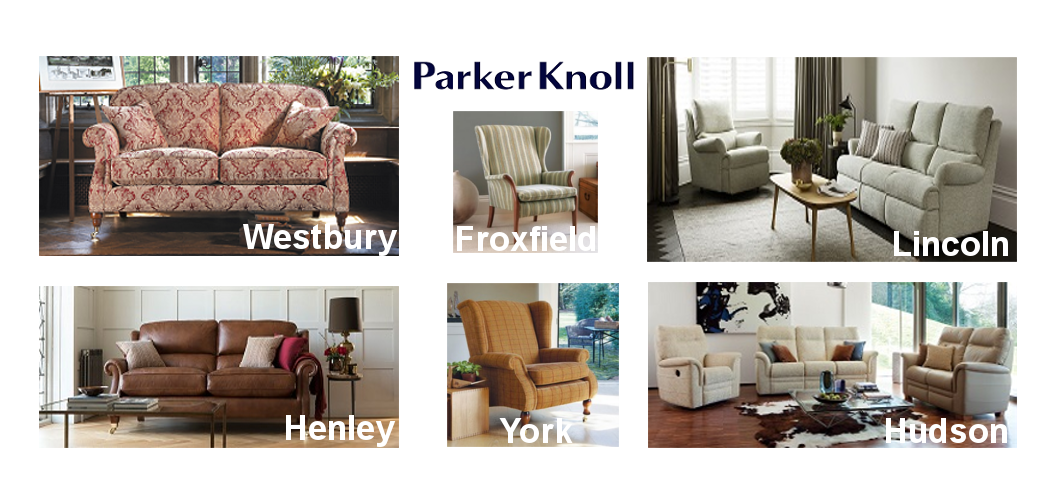 G Plan Upholstery
G Plan Gemma
Exceptionally Stylish and comfortable, with beautiful topstitching detail, the Gemma looks great in a range of fabrics including leather
G Plan Milton
The luxurious cushioning on the Milton extends into the arm and corner rests, so you can sink into its soft embrace
G Plan Malvern
With its distinctive look, generous cushioning and the option of double power recliners on the sofas, the Malvern sofa combines elegance and relaxation.
G Plan Mistral
Sit in the lap of luxury with this sumptuous chaise style sofa. A high back, lumbar support, power recliner and generous arm pads give the Mistral a wonderfully comforting feel. Now also available in smaller size.
G Plan Washington
G.Plan Washington blends sumptuous comfort with modern lines, Washington is the height of finely tailored design, available with powered reclining actions in the sofa`s and chairs
G Plan Hepworth
G.Plan Hepworth is NEW with a contempory look, the clean lines of this sofa are the epitome of modern design, available in 4 models, 3 seater, 2 seater, chair & stool
Ex-Display Clearance
We have many stock items available at our Abington street showrooms at Clearance prices
Show me all Clearance stock
Second Hand Furniture
We have a Second hand Furniture Shop at 241 Birchfield Road East, Northampton where we stock quality branded used furniture. Brands we stock are secondhand Ercol furniture including dining sets, wall units, occasional and more … traditional, light, golden dawn and fruit wood finishes.
We also stock secondhand Stag Minstrel furniture which although no longer manufactured is still very collectable. We have both secondhand Stag Minstrel dining and bedroom furniture. Other secondhand furniture brands we are stocking at present include G-Plan Fresco, Nathan Teak, Parker Knoll, Vale, Titchmarsh and Goodwin plus much much more.  Here are some of our popular items:
Show me all secondhand stock